Water and Environmental Testing Lab Software (EasyLab)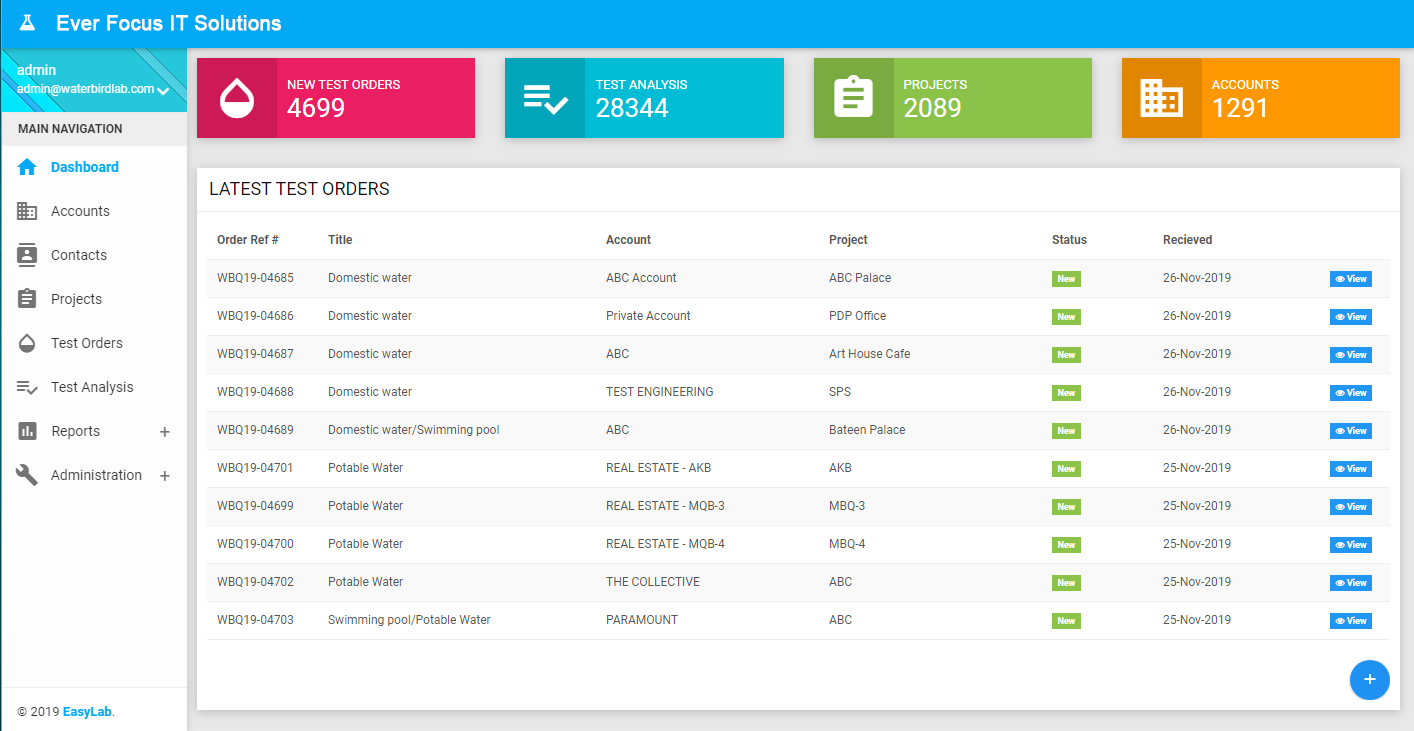 A Lab management system (EasyLab), sometimes referred to as a laboratory information system (LIS) or laboratory management system (LMS), is a software-based solution with features that support a modern laboratory's operations. Key features include but are not limited to workflow and data tracking support, flexible architecture, and data exchange interfaces, which fully "support its use in regulated environments". The features and uses of a EasyLab have evolved over the years from simple sample tracking to an enterprise resource planning tool that manages multiple aspects of laboratory informatics.
Laboratory Information Systems are dynamic because the laboratory's requirements are rapidly evolving and different labs often have different needs. Therefore, a working definition of a Laboratory Information Systems ultimately depends on the interpretation by the individuals or groups involved.
Laboratory Information Systems, and process development execution system (PDES) have all performed similar functions. The term " Laboratory Information Systems " has tended to refer to informatics systems targeted for environmental, research, or commercial analysis such as pharmaceutical or petrochemical work. " Laboratory Information Systems " has tended to refer to laboratory informatics systems in the forensics and clinical markets, which often required special case management tools. "PDES" has generally applied to a wider scope, including, for example, virtual manufacturing techniques, while not necessarily integrating with laboratory equipment.
In recent times Laboratory Information Systems functionality has spread even farther beyond its original purpose of sample management. Assay data management, data mining, data analysis, and electronic laboratory notebook (ELN) integration have been added to many Laboratory Information Systems, enabling the realization of translational medicine completely within a single software solution.
Sample management
The core function of EasyLab has traditionally been the management of samples. This typically is initiated when a sample is received in the laboratory, at which point the sample will be registered in the LIMS. Some LIMS will allow the customer to place an "order" for a sample directly to the LIMS at which point the sample is generated in an "unreceived" state. The processing could then include a step where the sample container is registered and sent to the customer for the sample to be taken and then returned to the lab. The registration process may involve accessioning the sample and producing barcodes to affix to the sample container. Various other parameters such as clinical or phenotypic information corresponding with the sample are also often recorded.
Web-enabled Software
A web-enabled EasyLab software is a web browser component. In this setup, the client-side software has additional functionality that allows users to interface with the software through their device's browser. This functionality is typically limited only to certain functions of the web client. The primary advantage of a web-enabled EasyLab is the end-user can access data both on the client side and the server side of the configuration.